Food is the ultimate security need, new map shows
It is a graphic demonstration of the sickening, symbiotic relationship between hunger and conflict and highlights food supply problems from Somalia to India to Spain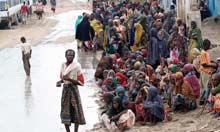 "Despite the enormous economic growth India has and is experiencing, it still has very stark income inequality, which is reflected in the malnourishment and infant mortality data," says Helen Hodge, head of maps and indices at Maplecroft. The Maplecroft index, reviewed last year by the World Food Programme, uses 12 types of data to derive a measure of food risk that is based on the UN FAO's concept. That covers the availability, access and stability of food supplies, as well as the nutritional and health status of populations.
"Spain and Portugal have made the decision that olive oil and wine exports are more profitable than grain," she says, along with salad crops. So they sell lettuce and Rioja and buy wheat and corn with the profits.
That calculation may change if global food prices continue on their current upwards trend. In other parts of the world, soaring food costs may well ignite further conflict. "It is striking is how much food security plays into the wider picture of unrest," says Hodge.
Source:
http://www.guardian.co.uk/environment/damian-carrington-blog/2011/aug/31/food-security-prices-conflict